The Role Of Swatch In Luxury Swiss Watchmaking
The 'cheap' watch brand that literally restored Swiss luxury watchmaking to health.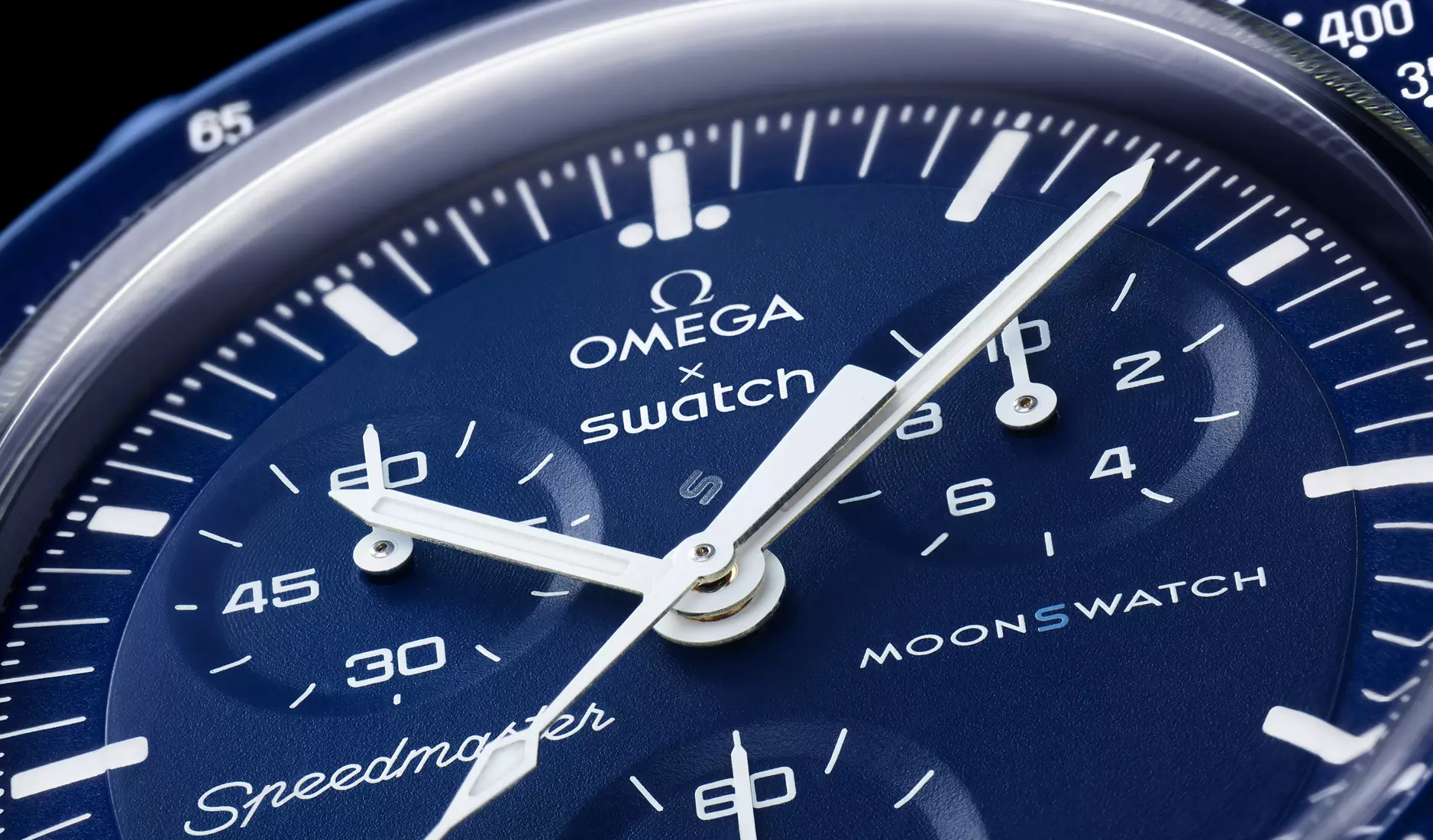 So many things to unpack from the collective meltdown caused by the Swatch and Omega collaboration. The new NON-LIMITED collection of 11 MoonSwatch watches, an affordable take on Omega's iconic Speedmaster 'Moonwatch' clad in Swatch's 'bioceramic' case in a variety of colours, had brought out an unprecedented explosion of both fervent and ugly behaviours that, though not uncommon to watch buying, had never been witnessed on such a large scale – at least not in this scribe's experience.
In cities across the world, hordes descended on Swatch boutiques for a piece of the action. Some were fans of both brands and couldn't resist the urge. Others wanted first dibs on an exciting and unusually affordable watch with the word 'Omega' on it. And there were more than a few who believed that they could turn the watches over for a tidy profit. In the midst of it all, fights broke out, ridiculous grovelling ensued, and debates were sparked over a range of topics spanning marketing smarts to horological authenticity to the genesis of the collaboration.
So, why did Swatch and Omega do this? From a historical context, it appears that Swatch is calling in a favour from decades ago, when it almost single-handedly rescued the Swiss luxury watch industry (of which Omega were part of) from being obliterated by cheap and affordable battery-operated watches – a challenging time famously known as the 'quartz crisis'. And understanding the origin story of Swatch will provide clues to why Omega isn't hesitant to reflect some of its shine on its 'plastic watch' sibling.
A Story Of Survival
The first prototypes of Swatch watches from 1981
Admittedly, while Swatch remains a top go-to brand for watches in its price category with characteristically fun and affordable creations, the market space it operates in has gotten a lot more crowded in the past decade. But ask any youth who grew up in the 1980s about the watch brand of the time and, chances are, they'd be flashing their Swatch watches at you.
In fact, it wouldn't be far-fetched to describe Swatch as a true global horological phenomenon. Right off the bat, the name itself – a portmanteau of 'second' and 'watch' – was meant to be taken literally. Back when the idea of owning multiple Swiss-made watches seemed inconceivable to the general public, due mostly to cost considerations, Swatch was the great leveller. It not only offered authentic watches from the mecca of watchmaking, but did so at a few hundred bucks a pop, and with art, fashion, music and style thrown into the mix.
But more than anything, the story of Swatch is one of survival. Right up until the 1970s, Swiss watches ruled the horological roost. They were peerless with craftsmanship and offered mechanical wizardry that were a cut above the rest of the world. However, that quickly changed when quartz watches from Asia gained popularity.
The reality hit hard for the Swiss during the late 1970s. As consumers turned in droves to the more affordable Asian alternatives, export figures for Swiss watches plunged by half, and international market share for Swiss watches shrank from 50 per cent to 15 per cent.
During those days, the majority of Swiss watch brands operated as small independent businesses. This meant many had no financial muscle to counter any market forces, which led to the demise of many smaller brands. Faced with the dire situation, ASUAG and SSIH, two of Switzerland's bigger players in the watch trade, commissioned Hayek Engineering, a marketing company, to compile a market research report.
Working for the company was a young Nicolas Hayek, who reported in his research that while the public still regarded Swiss watches as premium, high prices proved to be a stumbling block. He recommended that the Swiss brands manoeuvre their way out to safety by trying their hands at capturing the low- to entry-level price market. That suggestion was quickly shot down.
Subsequently, ASUAG and SSIH merged to form SMH (Société Suisse de Microélectronique et d'Horlogerie) in the 1980s. Hayek, who probably saw the potential of his previously rejected proposal, astutely raised enough funds to buy 51 per cent stake in the newly formed group. This marked the start of the transformation of the Swiss watchmaking industry, as SMH's radical new majority shareholder set his plans in motion.
At the core of it was his vision for watches that ventured beyond the realm of timekeeping. Rather, they are instruments that expressed one's personality, spirit, dreams and style (interestingly, this philosophy would be similarly espoused during later years by luxury watch brands). And during the difficult days of the quartz crisis, SMH ensured that this proposition was matched by affordable price tags.
Swatch Transformation

The late Nicolas Hayek, chairman of the Swatch Group, a key mastermind behind the revival of modern Swiss luxury watchmaking
In 1983, SMH launched the first Swatch collection, a series of 12 colourful plastic-clad models that retailed for US$35. While fitted with quartz movements, they also brandished the famous 'Swiss-Made' stamp of quality, which promised accuracy and shockproof virtues.
Having said that, SMH's master stroke wasn't simply to replicate what the Asian watchmakers had done. In fact, the genesis for the Swatch watch was the Delirium Tremens, an ultra-thin luxury gold watch developed by a group of engineers in Neuchatel as an initial response to the Asian challenge. Hayek subtracted the expensive material out of the mix and focused on its radically simplified construction, which required only 51 parts compared to the regular 100. Advancements were also made in the production, movement design and moulding process.
Along with the behind-the-scenes transformation, Swatch ushered in a new era in the marketing of Swiss timepieces as Hayek incorporated modern art, fashion and pop culture sensibilities in its branding and promotional efforts. And as in fashion, new products, which included limited editions that fans queued days for, were launched twice a year. The products were on display for at most a year, and SMH never reproduced a collection that was sold out.
Swatch's success strengthened SMH's coffers, and resuscitated the high-end brands like Omega, Longines and Breguet under the group's umbrella. With their fortunes reversed, they made deeper inroads into the international market, fanning the interest of horolophiles once again. This demand then laid the foundation for the revival of the Swiss luxury watch business as we know it today. By the 1990s, Swiss watchmaking led by the Swatch Group – SMH's new name – was back at the forefront of luxury watchmaking.
Fast forward to 2022 and the MoonSwatch. Whether you think that the Omega and Swatch collaboration is a godsend, call it a mistake, or are up in arms about it, it perhaps isn't entirely too surprising to see the names of both brands on the same watch. Both go way back, and their fates had been more intertwined than some watch lovers care to think. And to be honest, there is plenty more in the world to be shocked and offended by these days than an Omega and Swatch watch.
---
---
End of content
No more pages to load