Panerai: Adventures In Material Experimentation
Panerai CEO Jean-Marc Pontroué takes us inside.
Jean-Marc Pontroué has been a fervent flag-bearer of the Panerai's 'Laboratorio di Idee' (Italian for 'laboratory of ideas') credo since he took over as the brand's CEO in April 2018. And for 2020, Panerai's new creations show that the brand is putting its money where its mouth with in the field of material experimentation.
The new offerings are dominated by Luminor Marina models, a collection that celebrates its 70th anniversary this year. Pontroué describes the watches as a multi-facetted celebration of the iconic Luminor Ref. 1312 – and rightly so.
The watches ooze presence and charisma, thanks to the plethora of exceptional case and dial materials used in their construction. They include the Luminor Luna Rossa GMT in titanium case fortified with carbon DLC and a dial covered with 'technical sail fabric'; the Luminor Marina Goldtech, featuring a proprietary red gold alloy made of a high percentage of copper (24 per cent) and a bit of platinum (0.4 per cent); and the star of the show, the PAM1119 Luminor Marina Fibratech, its case made of basalt rock fibres and mineral additives that are bound with high-end polymers.
Here, Pontroué shares some insights on Panerai's R&D process that has become the bedrock of the brand's modern-day success.
LOOKS AND PERFORMANCE MATTER
"Every year, we aim to introduce a new and innovative material that adds value to the customers - not just innovation for its own sake. The material has to be visually exciting and functionally useful at the same time. In the Fibratech, we have a material that looks sexy but it is also very light and resistant to corrosion and humidity."

PAM1119 Luminor Marina Fibratech featuring a Fibratech case made of mineral fibres that combine basalt rock and mineral additives

IT ISN'T NEW TO PANERAI
"We have a heritage in making instruments for the Italian naval diving units. With that kind of lineage, our development and evolution as a brand naturally goes towards making watches that are robust, reliable and highly legible. As such, experimenting and introducing new materials to make these kinds of watches becomes ingrained as part of our DNA. And, like I mentioned earlier, we are a laboratory of ideas. This is not a marketing claim, it is what we do and we want to prove that every year." 
PAM1036 Luminor Luna Rossa GMT dial is covered in a thin layer of technical fabric from the sailing equipment of the AC75 monohull of Luna Rossa

LOOKING OUTSIDE FOR IDEAS
"In our Neuchâtel plant, we have a team of 15 in the research and development department who work specially in the field of developing, testing and implementing of new materials. They source for materials from diverse industries, from Formula One to the aerospace and medical industries. It is important to look beyond the watch world for this, because companies outside are spending billions of dollars in material research for their respective businesses. We also work closely with universities and we have the support of the Richemont group to test these innovations out."  
PAM1112 Luminor Marina Goldtech features a proprietary red gold alloy characterised by a high percentage of copper combined with platinum
BE PREPARED TO FAIL
"We have to accept that out of 10 materials we identify, nine will fail. Also, we need at least one year of tests for each new material - crash tests, corrosion tests and so on. Identification of the material is only the start of the process. Adjustments and miniaturisation is another story. Because now, we are also working with suppliers who might not have a clue about the watch industry and production. Bear in mind, when we work with outside partners, some of them register billions in terms of turnover. When we tell them that we just want 50kg of a certain material, they are laughing!"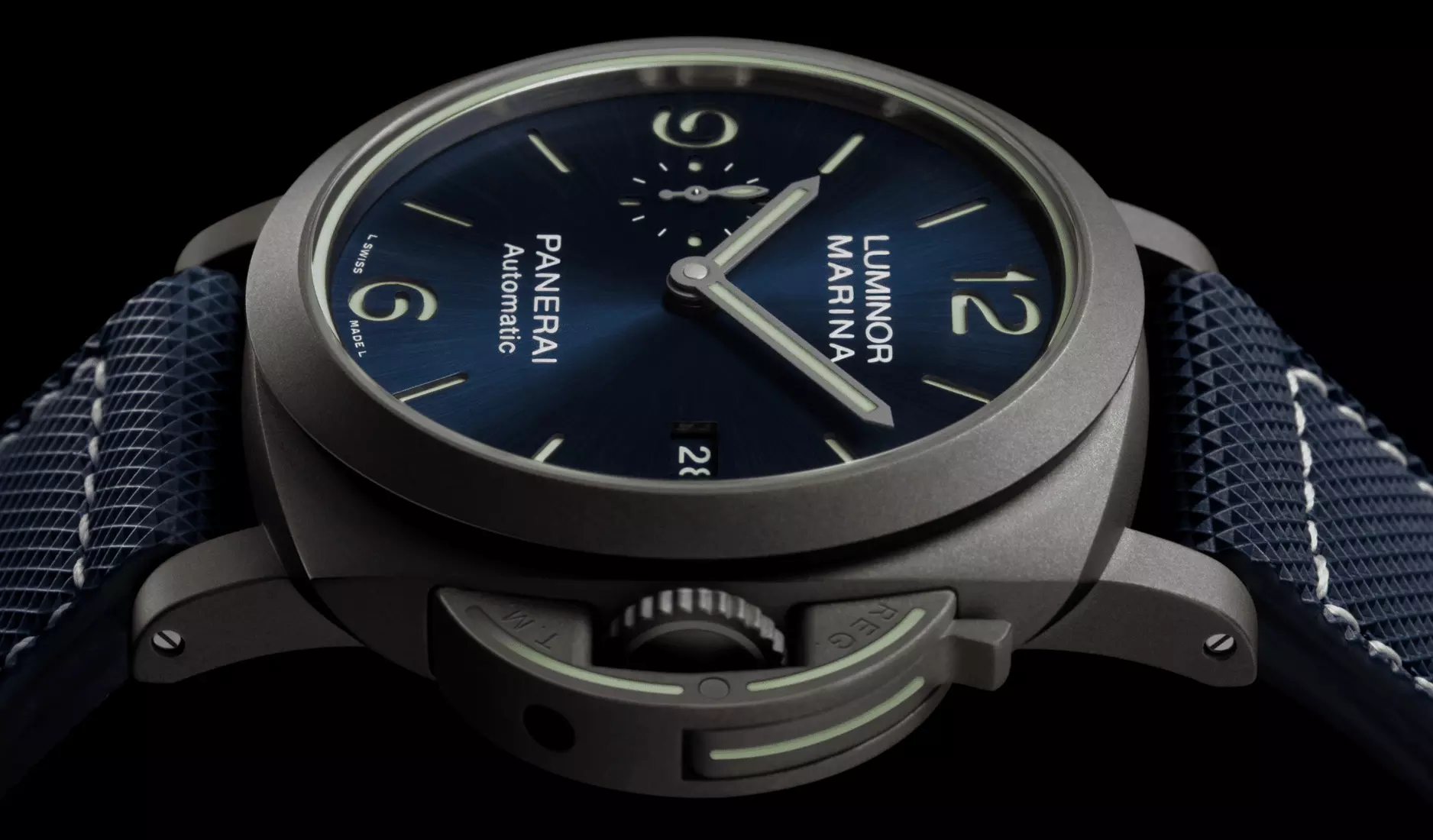 PAM1117 Luminor Marina in ultra-light titanium case manufactured using Direct Metal Laser Sintering (DMLS), a futuristic 3D printing process involving the sedimentation of titanium powder by a high-powered optical fibre laser
IT'S AN EXOTIC MATERIAL WORLD
"I must clarify that most of our sales today do not comprise steel watches. We are also not that big on gem-set watches and have a small range of watches in precious metals like gold. Most of our sales come from watches encased in titanium, bronze, ceramic, Carbotech and so on. Watches in BMG-Tech, Carbotech and bronze are the top three sellers. People may not realise it but Panerai's bestsellers today are housed in 'exotic' materials."
---
---
End of content
No more pages to load