Best Jewellery Watches Of 2019
Forget subtlety and yield to ultimate indulgence.
You wouldn't be here without a deep appreciation of the intricate mechanisms that make up precious complications or the detail that goes into every edge and curve of a watch case. But sometimes, people don't want to have to see the zeroes add up under a loupe.
Sometimes, people just want the wonderful, crazy, downright irresponsible opulence of it all to be staring them in the face and searing their retinas with the brilliance of a thousand diamonds. This is why the partnership between watchmakers and jewellers is so invaluable — haute horlogerie wouldn't be quite as bewitching without the glamour jewellery watches provide. Here are four we love.
HARRY WINSTON Precious Emerald
Despite its name, the watch doesn't actually use any emeralds. It is actually a reference to Harry Winston's favourite cut which, again, doesn't feature in any of the actual stones, but alludes to the shape of the watch case and the applied logo at 12 o'clock.

Brilliant-cut diamonds on the bezel and clasp merely set the stage for the 126 marquis-cut diamonds set in the Winston Cluster motif — a sculptural design the founder created in the 1940s to allow light to be captured from all directions.

The case is platinum and the dial comes in either blue or green hand-painted mother of pearl.

Numerical Advantage: 136 marquis-cut diamonds, 28 brilliant-cut diamonds, totalling 15.19 carats.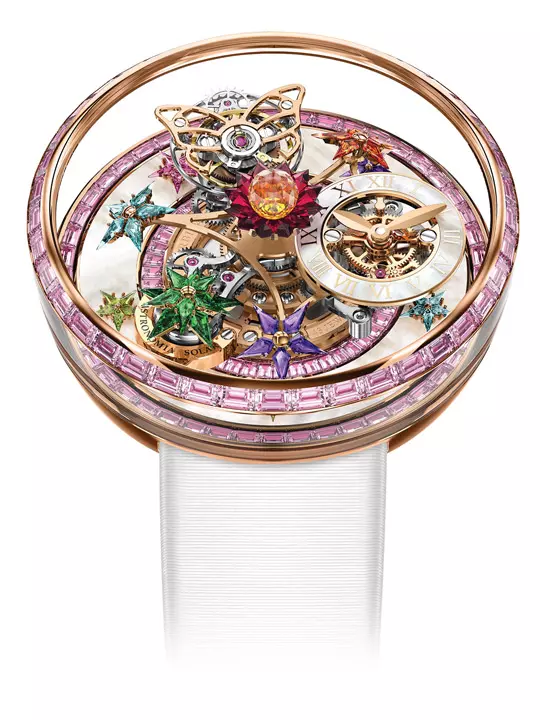 JACOB & CO. Fleurs de Jardin
This Jacob & Co Astronomia is both highly complicated AND generously bejewelled. The manual-winding JCAM31 Calibre was based on the Astronomia Solar, and took a year to develop.

Like the others in the Astronomia family, the Fleurs de Jardin features rotating components. But that instead of planets, it's 11 flowers crafted from amethysts, pink and blue sapphires, tsavorites, citrines, orange garnets and rubies that make their way around the mother of pearl dial once every 10 minutes.

Sandwiching the sapphire crystals are rose gold rings set with baguette-cut pink or blue sapphires, depending on which version you pick. Each is limited to 101 pieces.

Numerical Advantage: One Jacob-cut blue topaz, assorted kite-shaped multi-coloured stones, 88 baguette-cut sapphires, totalling 6.06 carats.
PIAGET Possession Ref. GOA44083
For over 30 years, Piaget has played with the tactile concept in its Possession line, where jewellery and watches feature rotating bands that add an element of play. For Possession watches, the spin is in the bezels, almost always adorned with a sprinkling of diamonds.

Piaget introduces dark rose colour ways and easily interchangeable straps for 2019, but the most glamorous of them all is the fully paved Ref. GOA44083. Its 29mm white gold case makes it daintier than its less sparkly 34mm siblings but brings the wrist presence with a full-on assault of brilliant-cut white diamonds on the dial, bezel and bracelet.

Numerical Advantage: 620 brilliant-cut diamonds totalling 11.16 carats
PATEK PHILIPPE Twenty-4 Automatic Haute Joaillerie Ref. 7300/1450R
The new Twenty~4 collection debuted last year with five versions in steel or rose gold with several dial variations, all with diamonds on the bezel and one with additional stones on the crown and bracelet, but we knew it was only a matter of time before a diamond-faced version appeared.

Rose gold was chosen as the base, perhaps to better show off the impeccable snow setting of more than 3,000 diamonds. This challenging 'random' setting can be admired on the dial, bezel and bracelet, though the crown is ringed with little diamonds as well. Unlike its predecessors, the Ref. 7300/1450R is powered by the Calibre 324 S, which sacrifices the date window but allows for uninterrupted bling.

Numerical Advantage: 3,238 brilliant-cut diamonds totalling 17.21 carats.
---
End of content
No more pages to load