INTRODUCING: Hublot MP-09 Tourbillon Bi-Axis 5-Day Power Reserve Rainbow
A rare rainbow-hued haute horlogerie piece without any bling. 
We've covered our fair share of high-end rainbow-coloured timepieces here, but trust Hublot to come up with an interpretation of the tutti frutti watch that is unlike any we've seen before. Instead of adorning the MP-09 Tourbillon Bi-Axis 5-Day Power Reserve Rainbow in a blanket of precious gems, the brand leverages its expertise in material innovation to create a 3D carbon case featuring all the colours of the rainbow. 
A somewhat paradoxical timepiece, the capricious multi-hued frame of the MP-09 Rainbow encases some serious mechanical watchmaking. Debuting in 2017 as Hublot's first multi-axis tourbillon, the MP-09 is entirely designed and manufactured in-house. Its assertive 49 x 17.95mm case is not for wallflowers, and its open-worked HUB9009.H1.RA.B manufacture movement commands attention. An off-centre counter shows the time, cradled by two arcs that display the date, while an indicator at 9 o'clock reveals its power reserve that goes up to five days. 
Meanwhile, an extraordinarily shaped sapphire crystal highlights the star of the manual-winding calibre: the bi-axial tourbillon. The anti-gravity mechanism completes one rotation per minute for the first axis and another rotation every 30 seconds for the second axis. A hypnotic spectacle to witness in person, it is no wonder that the case and crystal are designed in such an unconventional manner to showcase the complication in the best possible way. 
So why did the brand choose to dress an already spectacular watch in rainbow 3D carbon? In short, because it could. Or as Ricardo Guadalupe, CEO of Hublot, eloquently elaborates, "We have mastered Carbon. We have mastered traditional Rainbow setting. But no one was yet to master 3D carbon with the rainbow effect, quite simply because no one had thought about it. That is what makes Hublot different: we explore the unknown regions of haute horlogerie. This new 'MP' is therefore not just another Manufacture Piece: it embodies what Hublot is. Being first, unique, and different. And that will never change." 
To fully appreciate the complexity of the MP-09 Rainbow's case, one needs to take a closer look, perhaps with a loupe, as one would with precious stones. On scrutiny, one can see that the case is actually braided. To create the rainbow effect, thin bars of carbon are first laid flat a few millimetres apart. Then the gaps are filled vertically by bars of coloured composite that protrude slightly from the carbon. Finally, the height difference is filled with a third carbon mesh that levels all the components. The most remarkable aspects of the case are its entirely smooth surface that feels polished to the touch and the harmonious gradation of colours that creates the optical illusion that the watch is set with coloured gems when viewed from a distance.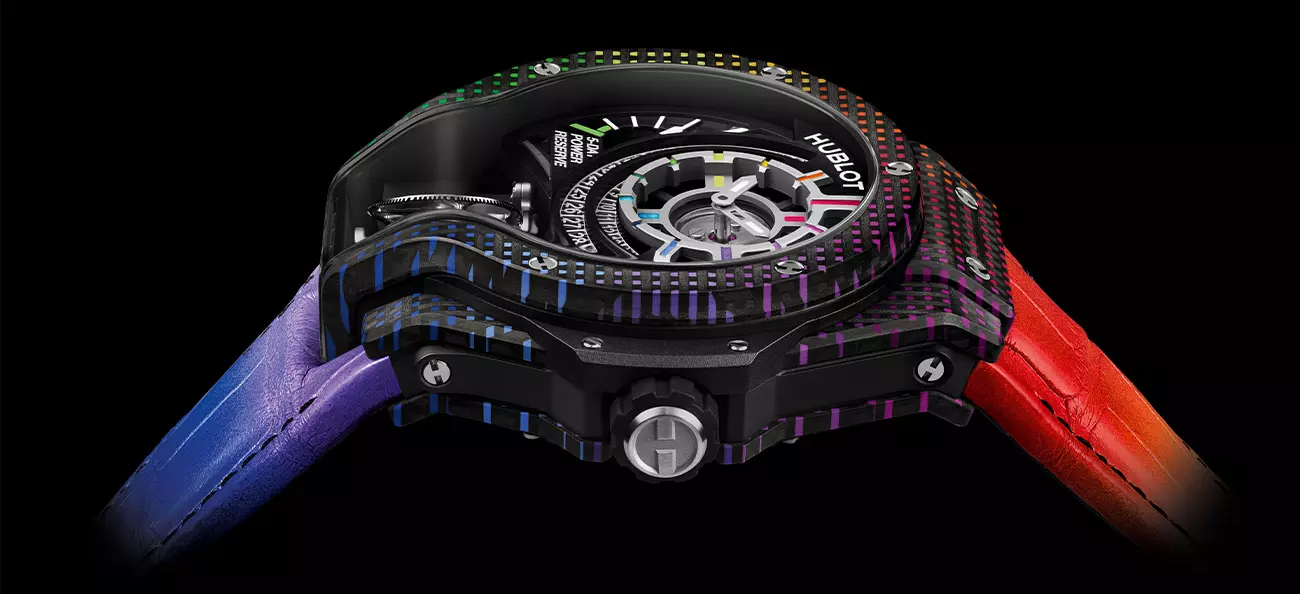 Paired with a multi-coloured alligator leather strap and limited to eight pieces, the Hublot MP-09 Tourbillon Bi-Axis 5-Day Power Reserve Rainbow admittedly may not be everyone's cup of tea; its hulking dimensions naturally exclude regular to smaller-sized wrists. Nevertheless, here's hoping we'll soon see rainbow 3D carbon versions of the Big Bang or even the Classic Fusion.
---
End of content
No more pages to load